You can now submit your land record online in Bihar.
In order to identify all the landowners in Bihar, the state government is currently conducting a survey.
Anyone who owns land in Bihar can participate in this survey where they have to self declare about the lands they own.
Currently, camps are being set up in 20 districts where officials are conducting the survey work.
In order to ease the survey process, Last month, the Minister of Revenue and Land Reforms, Shri Ramsurat Rai, ordered the officials to accept self-declaration of land records online.
Now, as soon as the Minister ordered the same, a link has been made available on the Directorate of land records and survey website.
With this link, one can self declare his/her land record as well as genealogy (Vansavali) online.
Steps to submit your land record online in Bihar
First, open this link and register yourself by entering your name, district, mobile number, Aadhaar Number, and Email.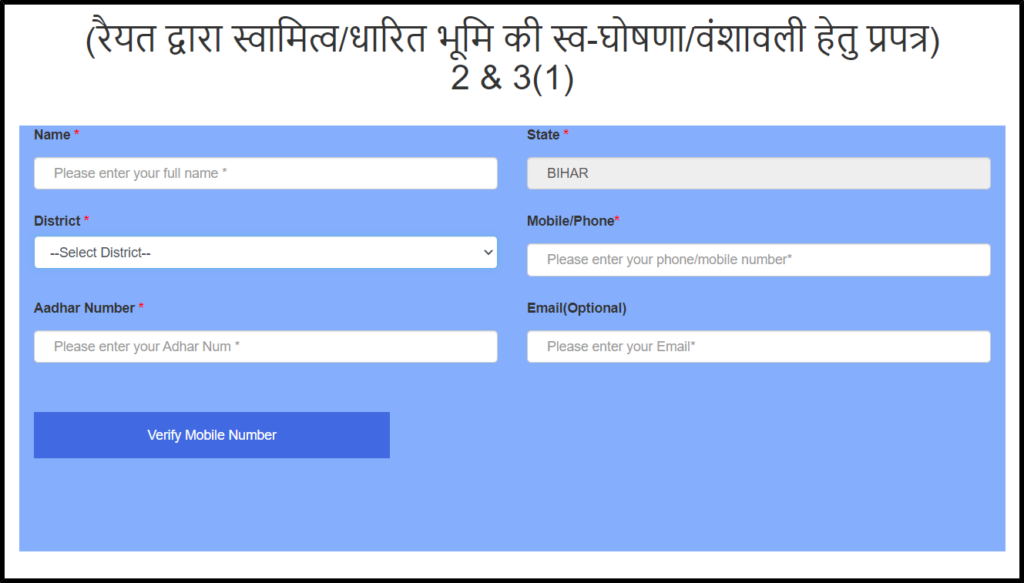 Once you complete the registration, fill the Form-2 if you want to self declare your land records.
However, for genealogy, fill up Form-3 that has a total of 2 pages.
Note: The landowners can upload files up to 3MB in PDF format that in general is equal to 10 pages. I think that is sufficient as one can submit forms up to 3 pages and for the remaining page, they can submit supporting documents.
As soon as all the details will be uploaded successfully, the landowners get a confirmation message about the same on their registered mobile number.
Why has the land department brought this initiative?
Well, people who live in Bihar can submit their land records by easily visiting their nearest land reforms office, this initiative will primarily help those who live outside the state.
Also, when the land survey will complete, the government will have the idea of vacant lands in the state as well as helps to increase transparency.