London Bridge is a first ever rooftop restaurant in Muzaffarpur built in the year 2022.
The restaurant has been designed by taking inspiration from the famous London Bridge that is present beside the Thames river in London, United Kingdom.
While talking about the design, the restaurant owner "Rohit Raj" said, a few years back he visited the London Bridge in the UK and he liked the design and feeling of the bridge so much that he thought of opening a restaurant in a theme of London Bridge in his own city.
And there came the idea of opening the London Bridge Restaurant in Muzaffarpur.
Menu and Seating Facility
This rooftop bridge restaurant presents a beautiful view of the city along with giving the facility of enjoying delicious food.
It has multiple seating options like Indoor, Outdoor, and Lounge providing comfort and luxury at affordable rates.
The restaurant serves a variety of dishes which belong to Indian, Chinese, and Continental.
The dishes are available both in the veg and non-veg category.
Now, in addition to different dishes, the restaurant also has different facilities like having starters, mocktails, and desserts.
So, if you are looking for a place to chill with your family while enjoying delicious food with a top view of the city, I suggest you visit London Bridge Restaurant in Muzaffarpur.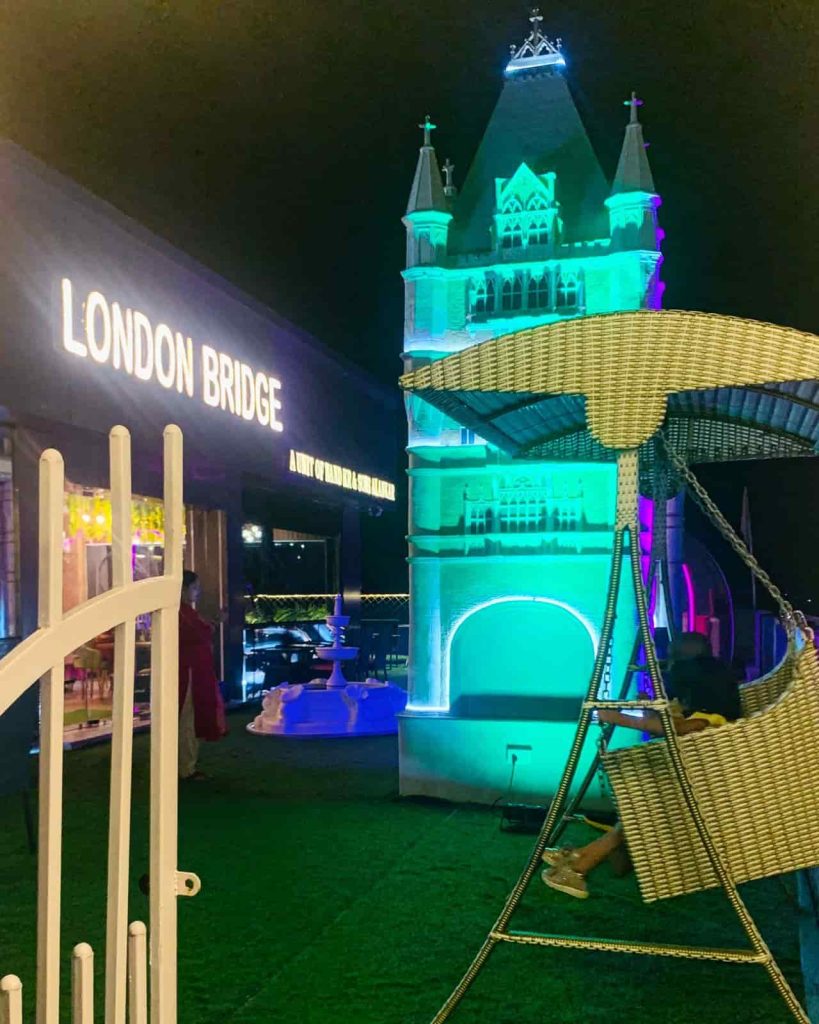 Address and Contact Info
It is located on the 4th floor of Bansal Tower in front of Jubba Sahni Park, Club Road, Mithanpura, Muzaffarpur.
It opens 7 days a week and you can visit here to enjoy its delicious food between 10 am to 11 pm.
The restaurant also offers table booking and outdoor catering as well. You can call for a reservation at 7004105989 or 7004125262.
So, that is all about London Bridge Muzaffarpur. Please let me know in the comments down below, whether you have visited this restaurant or do you like it or not.
Read also: How to order from KFC Muzaffarpur Online?